Spiekerman
01 08 13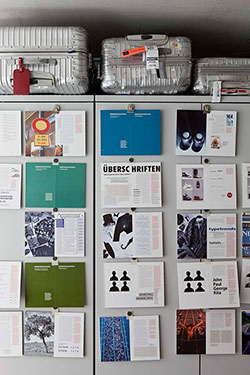 In their latest 'At Home With' series, FontFont caught up with their founder Erik Spiekermann, talking about printing presses, his most hated typefaces and what led him to become a typomaniac.
Erik Spiekermann is a German typographer and designer. He is a professor at the University of the Arts Bremen.
Spiekermann studied art history at Berlin's Free University, funding himself by running a letterpress printing press in the basement of his house.
Between 1972 and 1979, he worked as a freelance graphic designer in London before returning to Berlin and founding MetaDesign with two partners.
MetaDesign combined clean, teutonic-looking information design and complex corporate design systems for clients like BVG (Berlin Transit), Düsseldorf Airport, Audi, Volkswagen and Heidelberg Printing, amongst others.
In 1989 he and his wife started FontShop, the first mail-order distributor for digital fonts.
I don't like typefaces that everybody uses. I don't like Helvetica, because it's boring and it's not a typeface, it's an attitude. Or lack of attitude.
In 2001 Spiekermann left MetaDesign over policy disagreements and started UDN | United Designers Networks with offices in Berlin, London and San Francisco.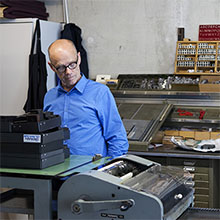 Complete interview at FontFont: At Home With Erik Spiekermann